07.1 - Front Fork Inspection
Loose, worn or damaged suspension components may affect the stability and handling of your motorcycle. If any of the suspension components seem to be worn or damaged, see your AJ1 dealer for service and/or inspection. Your AJ1 dealer is the most qualified to determine, whether or not replacement parts or service is required. Your motorcycle is new. Break it in for about 2 hours with the original settings before attempting adjustments.
 FRONT FORK INSPECTION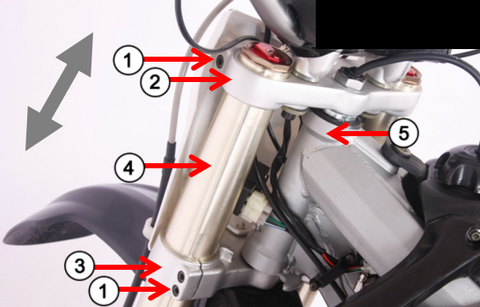 Check the fork 4 operation by pulling in the front brake lever and holding it to lock the front wheel.
Make sure the plastic fork protectors and dust seals are clean and not packed with dirt or mud.
Next, pump down on the handle bars several times. The suspension should feel clean and smooth.
Check the lower end of the forks (near the wheel) for oil leaks. Damaged or leaking fork seals should be replaced before your next ride.
Inspect the upper 2 and lower 3 triple clamps for tightness.
Be sure all the triple clamp bolts 1 are tight.
Examine the metal for any cracks, wear or other damage.
Be sure there is no free-play in the steering head 5.